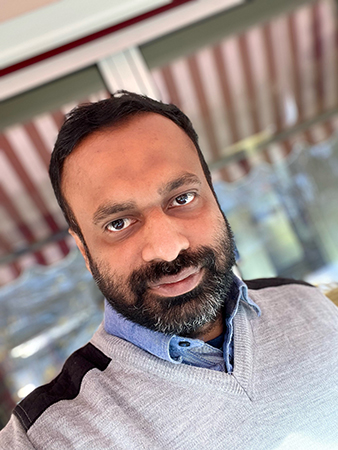 Prakash Arullampalam

Postdoc
I graduated with my MD, PhD at Prof. Hugues Abriel's Lab in the University of Bern in 2021. As an Electrophysiologist, I specialize in the functional and structural study of ion channels in the heart.
My research interests include the study of biophysical properties and pharmacological regulation of the ion channel TRPM4 in the heart. 
TRPM4 is a calcium-activated nonselective cation channel, situated in cardiomyocyte that support important cellular response such as cardiac rhythmicity. My focus lies in explaining the physiological role of TRPM4 in the cardiac conduction system.
As a research scientist in Prof. Abriele's lab, my usual routine lab techniques are endocardial mapping with a catheter from ex-vivo heart perfusion system, Classic-ECGs, Echocardiogram, and my favorite is patch-clamp technique.
Apart from working in the lab, I love to spend time with family and travel to fantastic destinations.
I am the proud son of Arullampalam and Sriharadevi and was born in the beautiful seaside city Batticaloa, on the eastern coast of Sri Lanka
On the Web
Email: prakash.arullampalam@unibe.ch

Institute of Biochemistry and Molecular Medicine
Publications
Arullampalam P, Essers MC, Boukenna M, Guichard S, Rougier JS, Abriel H. Knockdown of the TRPM4 channel alters cardiac electrophysiology and hemodynamics in a sex- and age-dependent manner in mice. Physiol Rep. 2023. doi: 10.14814/phy2.15783.
Arullampalam P, Preti B, Ross-Kaschitza D, Lochner M, Rougier JS, Abriel H. Species-Specific Effects of Cation Channel TRPM4 Small-Molecule Inhibitors. Front Pharmacol. 2021. doi: 10.3389/fphar.2021.712354.
Ozhathil LC, Rougier JS, Arullampalam P, Essers MC, Ross-Kaschitza D, Abriel H. Deletion of Trpm4 Alters the Function of the Nav1.5 Channel in Murine Cardiac Myocytes. Int J Mol Sci. 2021. doi: 10.3390/ijms22073401.
Hu Y, Kaschitza DR, Essers M, Arullampalam P, Fujita T, Abriel H, Inoue R. Pathological activation of CaMKII induces arrhythmogenicity through TRPM4 overactivation. Pflugers Arch. 2021. doi: 10.1007/s00424-020-02507-w.
Liang X, Arullampalam P, Yang Z, Ming XF. Hypoxia Enhances Endothelial Intercellular Adhesion Molecule 1 Protein Level Through Upregulation of Arginase Type II and Mitochondrial Oxidative Stress. Front Physiol. 2019. doi: 10.3389/fphys.2019.01003.